Now that you've observed your child's brain states and how they act during each of them, you have a new understanding of him or her. From here you can take that understanding to connect with and help your child, and to be more like the mother you set in your vision. Using neuroscience as a guide, you can approach each of your child's brain states with a different strategy. For example, when your child is in the RED brain you'll respond with minimal talking, whereas when they're in the GREEN brain, you'll utilise this time for teaching new skills. You'll be able to read your child's ever-changing brain state throughout the day and respond in a more attuned and appropriate way. You'll notice your responses are more fluid, connecting and relationship enhancing.
How to Respond to your child's brain states: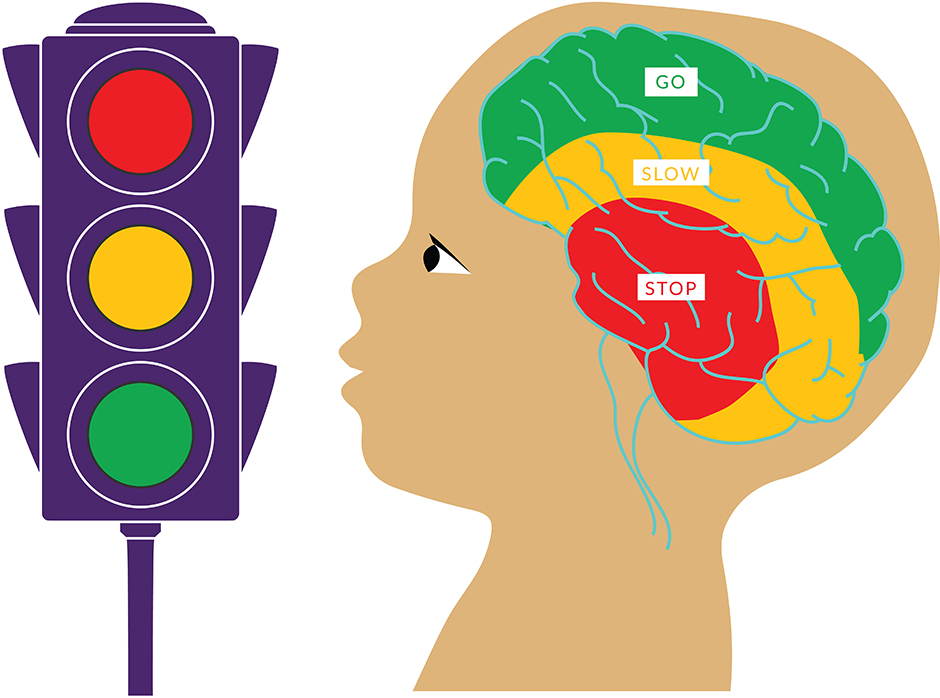 To make it easy we liken it to the traffic light system.
Human GREEN Brain: GO 
Mammal YELLOW Brain: SLOW
Reptile RED Brain: STOP
What my child needs in the Green
When your child is in their green human brain, they're much more able to hear what you have to say and be guided to learn new skills. You can show them how to brush their teeth, organise their room, help with meals and so on. It's a good time to acknowledge behaviours you like to see, and express your appreciation for who they are in their be-ingness as well as what they're do-ingness.
You can tell your child all that you are appreciating about who she/he is and does.
"I really appreciate how patient you've been while I've been talking".
"Wow, I'm loving how you're growing and changing and doing new things!"
"Thanks for being so clear with your desires".
This will strengthen their desire to repeat those behaviours , feel good about themselves and form positive habits and patterns that become wired up in their brain.
You can use storytelling and play to share examples of ways to manage big feelings, social situations and everyday matters. It's also a perfect time to reinforce their positive inner states by letting your own inner child join them to express heightened emotions such as excitement and joy.
Because our evolutionary brains are wired more to notice the negative, we often give most attention to our children when they're doing what we DON'T want. This only reinforces unwanted behaviours and doesn't help them develop inner skills.
It's SO, SO, SO important to train your brain to notice them in the 'green'. It's where all the wonderful juicy learning and desired relationship building happens. It's how we help wire their brain to develop the positive traits we desire. Then it becomes their natural way of how they show up in the world.
What my child needs in the Yellow
When your child is in the yellow emotional part of the brain they're still able to be redirected but only if you slow it down and use your embodiment practices to connect.
Whatever is happening, give your child some of your attention whilst consciously relaxing yourself at the same time.
Connect to them with empathy. Reflect back to them what you notice. Then you can attempt to use playfulness, silliness and fun.
For example:
"I see you really don't want to get dressed. What if I got dressed in your clothes? How silly would that be?"
Sometimes it works, sometimes it doesn't. If not you'll need to stay with what's happening with their body, their big feelings and important thoughts for longer, staying close, being slow and really 'with'.
Check in further. Are they hungry, tired or overwhelmed with too much 'input' from all the things they've been doing?
Their natural rhythm will be different from yours. See if you can put your own agenda to the side for a bit and see how you can help. You might divert an unnecessary meltdown.
The yellow can go either way … up to green or down to red.
What my child needs in the Red
When your child is in the red 'animal' part of the brain they can't think properly, and their stressed little bodies and the alarm centre in their brain has taken over.
This part of the brain does not understand rational thinking or anything much you say so keep talking to a minimum or nothing at all.
What they need from you is to stop what you're doing.
If possible get your own body down lower than their eye level and come in closer giving your full attention. Hold a calming presence and give the non-verbal communication of being bigger, wiser, stronger and kind. Use a soothing tone of voice or empathetic sounds if needed. Model slow deep breathing. Be genuine.
Your whole intention is to calm and contain your child, allow them to have the big emotions flow through them whilst keeping everyone safe. Stay with them until they shift out of red and can manage on their own.
As you hold space with them you might say something like:
"You really wanted that."
Even if you don't agree with them, it's important that you validate their feelings so they feel seen, heard and understood. All feelings and emotions are welcome and allowed, even if the behaviour is not.
Before we go any further lets talk about tantrums. Are tantrums and Meltdowns Normal?
Yes! There is so much development going on in your child's little body and brain, and that needs to be processed.
Combine this with all the new learning and all the obstacles that come in the way of growing into a body that's not capable of doing everything yet.
All the stimulation, all the development, all the newness, all the learning, all the interactions, all the big feelings that can be difficult to manage – it's a LOT for a little body and brain to contain. It's like a combustion system that needs to have an outlet, needs to let off steam.
A tantrum or a meltdown allows all of this to be released and settles the body into a state of relaxation.
You may notice that sometimes your child is heading into the 'red' no matter what you do. They keep pushing the boundaries until they get a firm "that's not happening" from you. It can seem like they're sometimes seeking this boundary so they can get their much needed meltdown. So they can finally let all this pent up frustration out!
Your job is to be the boundary they are seeking. You can set the boundary that they are unable to set for themselves.
Note: when you're in the 'green' part of your brain you'll be able to handle this much better than when you're in the "Red".
In module three we'll go into the three-step process of setting conscious boundaries.
Examples of how to respond to your child's brain state at different ages
Toddler:
"It's time to have a bath!"
Your child might say: "No I don't want to have a bath."
Old paradigm: "You have to have a bath. You're meant to do what you're told." You might get angry or you might bribe: "If you have a bath I'll give you this."
New way of parenting: "I have to read where my child is in her brain, to decide how to handle this"
GREEN RESPONSE:
You request for your child to have a bath.
Child: "Ok, can I have the boat in it?"
"Sure, that sounds like fun". Take this time 'in the green' to teach.
"It's so important to keep ourselves clean. Show me how you wash your face, then your arms, then your belly (and so on)"
"Hey, I love how when I asked you to have a bath you said, 'ok' and came straight away. I just love your arms and your legs and your beautiful face, and your hair and fingers… all parts of you!" Show your warmth in your smile and your playfulness.
YELLOW RESPONSE
You request for your child to have a bath.
Child: "No I don't want to have a bath". (whiney voice)
SLOW it DOWN. Take a breath. Try to get connected.
"Hey, I see you're not up for having a bath yet! I get it. Sometimes I'm not up for having a bath."
"And I want to see if we can make some big waves in the bath today to see how the boat goes over it!"
Connect, make it fun. They start to feel more connected and a little safer which makes it more likely to work. Especially if you've taken a breath and slowed down.
RED RESPONSE
You request for your child to have a bath.
Child: "NOOOOOOOO!" Maybe some hitting or being hostile
Time to STOP what you're doing and don't say another word. Anything you say is only going to add fuel to the fire. You have to get your child back to the GREEN before you do anything else.
Consciously use your embodiment practices to really 'be with'. Your presence of being bigger, stronger, wiser and kind in all the non-verbal ways is what's needed.
In an aligned way you might say: "ARRRRGGGGG it's so frustrating. I get it!"
If your child begins to move towards a higher brain state it might be useful to use play or humour in a connected way eg.
"What if I was a big gorilla having a bath, being silly?" whilst you begin play-acting.
If it's not working, stop, don't even proceed with the bath.
Do something different. Run around. Be playful. Being physical really helps move the mood energy. You want to get your child back to 'the green' human-self with love, connection and fun before proceeding again.
Child:
Your child didn't get invited to a party.
Old Paradigm: "That's ridiculous. I'm going to ring up her mother and get you invited. You're better than that!" You might get triggered yourself, reminding you of your own experiences. Or you might reinforce any negative responses your child has.
New Paradigm below:
GREEN RESPONSE
Child: "It's ok. I've got my friend next door I can play with instead" (relaxed body and voice, eyes connecting)
"Yes it's true, you've got your friend next door you can play with, and if not I'd love to spend some time with you".
"It's so awesome that you know how loveable you are no matter what happens".
"What a resilient person you are".
This is a time to enforce your positive connection with warm eye contact or hugs. If there is an opportunity you may use this as a teaching moment for anything pertinent to the conversation or anything else that your child is receptive to.
YELLOW RESPONSE
Child: "I didn't get invited and my other friend did!" (lip quivering, eyes watery)
"You're upset. I can see from your face that not being invited really hurt, didn't it? I get it, I'd feel left out to."
Stay with your child. Be with the emotions as they flow through. Really listen if she wants to talk. Be fully present without any agenda of your own. No matter how strong the desire, avoid arguing, lecturing, defending, or telling her not to feel that way. No teaching or explaining. All listening, allowing and being with.
RED RESPONSE
Child: "I HATE her. It's not fair. I HATE HER SO MUCH!" (loud voice, red-faced, throwing bag on the ground, then uncontrollably crying)
STOP what you're doing and stay with her as she expresses her emotions. Non-verbally show her that you 'get' how she's feeling.
When she seems to have shifted up to a receptive state (YELLOW) you might be able to rub her back and say something like:
"I know honey, I know. You're really upset." Listen to her feelings then reflect back to her what you're hearing: "You're just so angry aren't you?"
Adolescent:
Your 16 year old son has an important exam tomorrow. He's got a lot to deal with as he has a job as well as school and study. He approaches you saying he is worried about failing the exam despite doing his best with study.
Old Paradigm: "Well what are you here talking about it for? You should be in your room studying. What a waste of our money sending you to that school". You have a hostile disposition, an irritated tone in your voice, and judging, blaming words that create distance in the relationship.
New Paradigm Response:
GREEN RESPONSE:
Adolescent: "I haven't had enough time to study for tomorrow's test but I'm going stay up late and get as prepared as I can." (settled, engaging, seeking connection and support)
"It's so good you're letting me know. I know how much you've had on with work and everything lately. How can I help?" Help guide him through any problem solving.
Authentic appreciation can help also. "I really like how you are giving this your best effort. You've got such a positive attitude."
YELLOW RESPONSE:
Adolescent: I'm so worried about this stupid test tomorrow. I can't even think clearly enough to study." (anxious, agitated, no eye contact, pacing)
"I can see you pacing. It must be so difficult for you to sit down and study!"
"You're really worrying about the exam."
"It's so hard for you to focus today."
Give full attention. Come in closer in a calm and soothing manner. Be with the feelings until they shift and he moves into a higher brain state and wants to talk more. Invite him to express his thoughts where he can.
RED RESPONSE
Adolescent: "I'm NOT going to school tomorrow. I'm NOT DOING THE GOD DAMN TEST!!!" (aggressive posture and tone of voice, stomping around house, angry facial expression).
Stop what you're doing. Connect empathetically with his feelings mostly non-verbally. You might say:
"You look angry."
"You sound frustrated."
"Are you thinking you just can't do this exam?"
Stay with him. Show him by your presence how to be calm. Pay attention for any sign that he might be moving to a higher brain state.
Download another OBSERVE YOUR CHILD play sheet. Do the exercises whilst experimenting with these new brain state strategies. Use the downloadable 'My Child's Brain States' guide as prompt. Put it somewhere visible. Incorporate and revise the embodiment practices. Report back to The Village Facebook group.
What if I'm not in a good place myself?
At times it might be difficult for YOU to interact with your child in a connected and embodied way, because you have your own stuff going on. This of course is normal and part of being human. So before you help your child, you may need to do a version of the embodiment practices for yourself first. When you're highly stressed and get triggered by your child, its important to recognise that you're not just dealing with your child's behaviour you're also fuelled by other emotions that aren't actually about your child (such as fight with your partner or frustration about the bills). When this happens you need to step back, slow down and reconnect with yourself (even if its just a few deep breaths and the mantra "this is MY stuff, not my child's"). This will help you be present with what's happening with your child so you can respond more consciously instead of the old patterning where you say and do things that you later regret.
In the next Module you'll be learning about Boundary Setting, how to repair mistakes and what else your child needs to stay longer in the Green Brain.
With love,